Somos una empresa de dos mujeres madre e hija. Lo que empezó como regalos para otros terminó siendo un negocio. Es importante para nosotros dejar el mundo mejor que como lo encontramos. Hemos encontrado pequeñas empresas alrededor del mundo que hacen productos únicos y de alta calidad. Trabajamos sin intermediarios o vendedores. Todos nuestros productos son hechos basados en nuestros diseños. No compramos bodegas. Siempre pagamos a nuestros proveedores al hacer los pedidos. Sus empleados son mujeres que reciben beneficios de salud y trabajan horas adecuadas.
---
We are a company of two women, mother and daughter. What started as gifts for others ended up being a business. It is important for us to leave the world better than how we found it. We have found small companies around the world that make high quality and unique products. We work without intermediaries or sellers. All of our products are made based on our designs. We do not buy wineries. We always pay our suppliers when ordering. Its employees are women who receive health benefits and work adequate hours.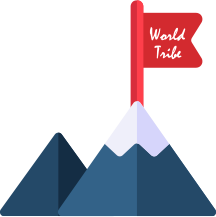 Misión
Hacer énfasis en la moda ética, incluyendo derecho adecuados para los trabajadores, canales de compras transparentes sin mediadores, las prendas son orgánicas y las cabras de Himalaya son tratadas humanamente. Así mismo, tenemos faldas/vestidos de saris reciclados que también hemos usado para hacer hermosas mascarillas. A partir del COVID-19, como cada compra regalamos gel desinfectante con aroma de aceites esenciales.
Hacer conciencia mundial de los derechos de las personas incapacitadas, de los niños y de las mujeres en áreas marginadas. y proveer apoyo. Parte de nuestros ingresos se donan a la escuela Azulado para niños incapacitados.
Seguir con la autenticidad de nuestros productos, siendo únicos de cada región. Además de la autenticidad del diseño.
Los diseños están basados en el reflejo de la naturaleza incluyendo los colores y los diseños
---
Our mission is to develop a communuty (the tribe) arround the world in order to share the wealth of excusite clothing and unique accesories with others. Our product are the Best in quality and design. From organic farms to bohemian clothes made with vintage Sarees, to natural Stone jewrly, our goal is to reduce the process and provide with the Best. Most importantly for us is to develop personal relationships with the artists whom we receive the goods. We emphasize relationships with small growing business where the owner is the producer. By expanding our friienships arround the world (tribe), we will allow others to grown and share the products with all of us (the tribe).